Did you see solar stocks on Monday? This particular green sector went parabolic! While the S&P 500 dropped 0.7%, the entire Invesco Solar Portfolio ETF (NYSEARCA:TAN) posted a very impressive 3.6% gain (plus a 0.7% after-hours pop), paced by a 10% gain in Daqo Energy (NYSE:DQ) and a 9% gain in SunPower (NASDAQ:SPWR).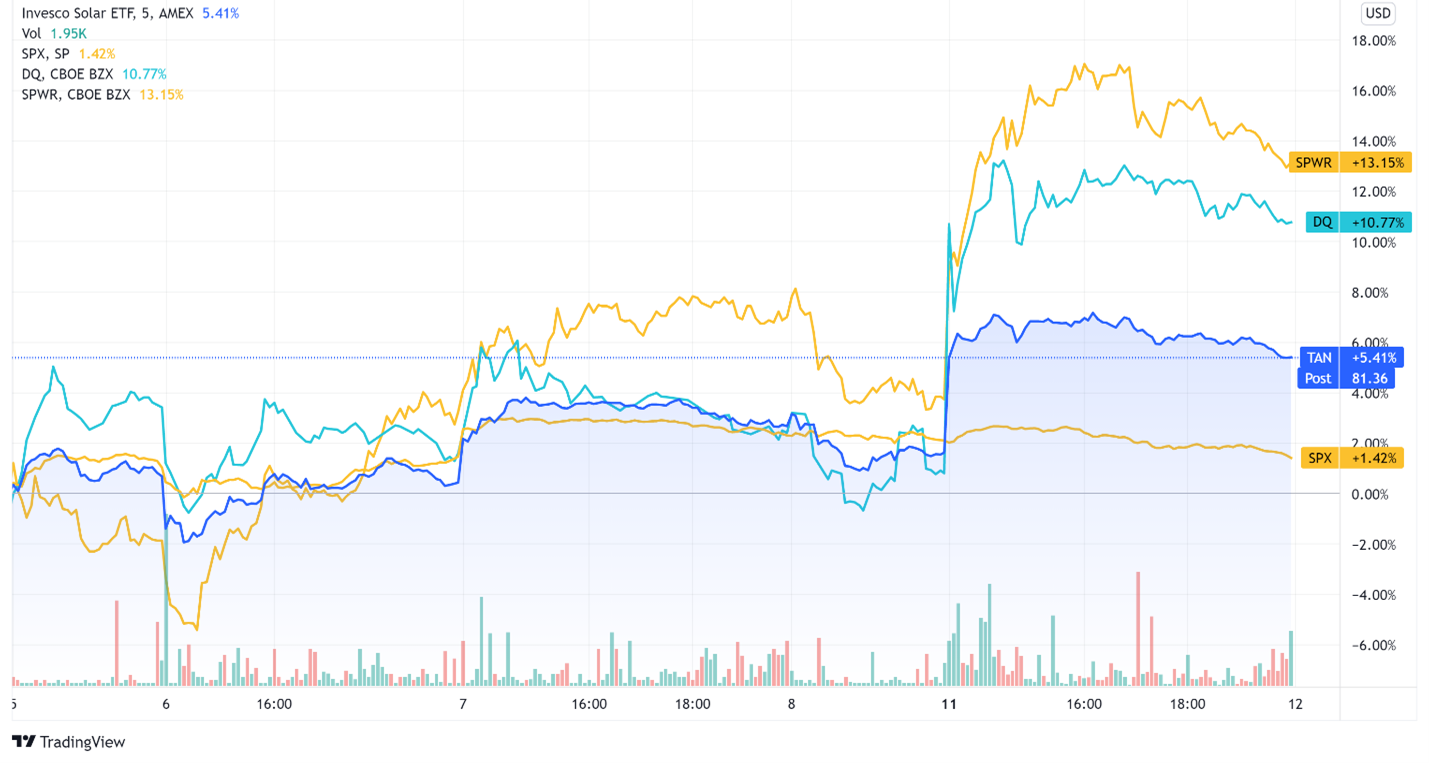 The catalyst? A bullish note from the Wall Street bank Jefferies, which broadly stated that current polysilicon supply chain woes weighing on the industry will abate in 2022, driving solar panel install prices significantly lower and unleashing a ton of pent-up demand that was scared away by 2021's high solar prices.
We couldn't agree more with this thesis.
Long story short, the solar industry has been one underpinned by falling costs over the past decade. As the technology has improved and supply chains have benefitted by economies of scale, the cost to install solar has dropped significantly – which, not coincidentally, has led to a surge in demand for solar energy.
But that trend has been upended in 2021, thanks to polysilicon supply shortages, which has caused a spike in the price of polysilicon and resulted in a year-over-year increase in the cost of solar panel installations. On concerns about these rising costs, solar stocks have dropped in 2021, after a red-hot 2020.
This is a temporary phenomenon.
Polysilicon supply shortages hurting the solar industry are a direct result of Covid-related supply chain disruptions. But Covid-19 is increasingly becoming a smaller and smaller problem on the global stage, and it looks more and more likely that multiple production plants will come back online at 100% capacity in 2022.
That includes polysilicon manufacturers, meaning that polysilicon supply should rebound to "normal" levels in 2022.
As that happens, the supply-demand imbalance in the solar market will be rectified, prices will resume their downward trend, and demand will surge – because you're going to get all those folks that were considering about switching to solar in 2021 but were ultimately scared away by the prices, flooding the market in 2022 as install prices plunge.
From a financial perspective, solar companies will benefit from higher demand, stronger pricing power, and bigger profit margins – which means much, much bigger profits.
The investment opportunity?
Solar stocks have been crushed in 2021. The Invesco Solar ETF is down more than 20% year-to-date, versus a 16% gain for the S&P 500. Many solar stocks are trading at their cheapest valuations in over a year.
And yet, those very stocks are about to see a surge in revenues, margins, and profits in 2022.
That's going to result in these beaten-up, cheaper-than-usual stocks soaring over the next 12 months.
The time to buy is now.
That's especially true because, while solar stocks have been falling in 2021, solar industry scientists have been busy pushing forward on huge technological breakthroughs with enormous success.
The biggest of these breakthroughs has to do with something called perovskites.
Long story short, solar cells are built on semiconductors, since those semiconductors are what allow solar systems to turn raw sunlight into usable electricity. Traditionally, solar cells have used silicon as their primary semiconductor, since silicon is relatively abundant and stable, and its semiconducting properties naturally match up well with the sun's light spectrum.
But making large silicon crystals for use in solar panels is very expensive and labor-intensive – hence why solar panels are so expensive.
Perovskites are the fix.
Perovskites are easily synthesized materials that can be manipulated relatively easily. Scientists have recently figured out how to manipulate these easy-to-us perovskites to mimic the semiconducting properties of silicon.
In it of itself, that's a huge deal, since it means perovskite solar cells are a low-cost alternative to silicon solar cells.
But beyond that, researchers at the University of Oxford have figured out that, if you manipulate those perovskites in just the right way, you can significantly boost the efficiency of those solar cells, too.
Today's silicon solar cells max out at around 22% efficiency. Throw in some perovskite, however, and Oxford is testing solar cells that are pushing 30% efficiency – and the research team expects that number to climb to 40% over time.
In other words, perovskites could be the key to unlocking a new generation of more-efficient, cheaper solar panels, which could pave the way for mainstream adoption.
And just last week, seven solar researchers from academic institutions across the globe working on this very perovskite technology were awarded with the prestigious 25th Rank Prize for Optoelectronics.
So, don't worry about the weakness in solar stocks in 2021. Use it to your advantage. Buy the dip and score huge returns in 2022 and beyond by betting on the inevitable solar-powered future.
While rising tides do lift all boats – and we do believe most solar stocks will rise in 2022 – we see one solar stock in particular as being a huge winner.
In fact, we're so confident in this one stock that it is the only solar stock we own in our flagship investment research advisory, Innovation Investor – where we invest in the world's most innovative companies, transformative megatrends, and breakthrough technologies.
It's a company that has built a mission-critical technology at the epicenter of the solar energy industry. This technology is unique, patented, and powerful – and it's the key to making solar panels work well enough to be deployable across the globe.
When all is said and done, thanks to this game-changing technology, this company could emerge as the Solar Energy Revolution's biggest winner.
To find out more about our top stock to buy in the solar industry – and the best stocks to buy for huge long-term gains in the technology world – click here.